The Shop
My shop is 20 miles from the nearest electricity and six miles from the nearest phone! It's powered by 24 solar panels and just might be the only solar-powered Jade Shop in the world! But to be honest, I have to say, "I have a Honda generator for cloudy days ..."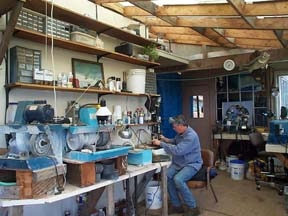 Kenny at work in his shop
The structure is self-built from recycled materials and sits among oaks, madrones and pines at 2,200 feet above the Pacific Ocean. My tools and my jade have been collected over a 37+ year period.